Why should we build with French's Fine Homes?
Quality. Experience. Energy Efficiency.

Detailed Contracts. Design Flexibility. Convenience.

These are all aspects of your French's Fine Homes experience. We provide a turn-key service from design work and obtaining permits through to completion of the build and handing you the keys to your new home or cottage. We perform all of our work according to signed contracts and change orders so there are no surprises at the end of the job. We have properties available for immediate purchase and quick delivery schedules. Our focus on energy efficiency, superior indoor air quality, exceptional air tightness and environmental responsibility will provide you with a high quality home that has optimal resale value.
Our award-winning warranty service is your assurance that you will enjoy your new home for many years to come.
How do I know that your homes are truly energy efficient?
Any builder can claim to build energy efficient homes. How do I know that your homes are truly energy efficient?
All of our homes and cottages include an EnerGuide Rating System label. The energy efficiency of a home can be measured using Natural Resources Canada's (NRCan's) EnerGuide rating system which determines a home's level of energy efficiency on a scale from 1 to 100, so that you can compare the energy performance of one house against another. A rating of 0 represents a home with major air leakage, no insulation and extremely high energy consumption. A rating of 100 represents a home that is airtight, well insulated, sufficiently ventilated and requires no purchased energy on an annual basis. Anyone can claim that a house is energy efficient, but an EnerGuide rating label proves how efficient it is.
Typical Energy Efficiency Ratings
Type of Home
Rating
New home in 2006
66-72
New home in 2006 with some energy-efficiency improvements
73-79
New home built to 2012 Ontario Building Code Standards
80
Highly energy efficient new home
81-90
What makes your homes different from other builder's homes?
All builders must meet the requirements of the building code, what makes your homes different from other builder's homes? What steps do you take to improve the energy efficiency of the homes you build compared to other builders?
Homes built with EnerGuide ratings above 80 go beyond the energy requirements of the current building code. They are more energy efficient which can translate into lower operating costs. Our homes offer better indoor air quality, are more comfortable to live in and include environmentally responsible products in their construction. Every French's Fine Home has an air-leakage test performed on it by a licensed third party professional to determine overall air tightness. This is accomplished using a large fan set in the front door with pressure gauges that tell how many air changes per hour occur at a preset limit.
Some of the standard features that increase your energy efficiency are:
All of our homes start with 2×6 stud walls filled with blown-in insulation, and are wrapped with rigid insulation panels on the exterior to increase R value and reduce thermal bridging through the studs.
We install high efficiency furnaces with a minimum AFUE (Annual Fuel Utilization Efficiency) factor of 95%.
We install Heat Recovery Ventilators to improve indoor air quality and to ensure an adequate and balanced ventilation system (critical to tightly sealed homes).
We provide minimum R50 attic insulation in all flat ceiling areas.
All of our windows are Energy Star labeled and feature a low-emissivity coating, argon gas filling in the air space and insulated spacers to reduce heat transfer.
We strongly recommend including rigid insulation under your basement floor to create a thermal break between your feet and the cold ground under the concrete.
Even a one-point improvement on the EnerGuide scale typically reduces your home's energy consumption by 3 to 5 percent!
The same attention to detail is exhibited inside the home. Your choices of flooring, cabinets, paint and other finishing details are completed with great care including an in-depth pre-delivery review by our warranty service manager.
How do your building techniques reflect the latest developments in housing technology?
We are part of a network of trained, innovative professionals who voluntarily include the EnerGuide rating process in our home building. The R-2000 Standard reflects best-in-class energy efficient homes and is backed by 30 years of research and development by the Government of Canada and the home-building industry.
We are committed to being industry leaders and continually take training and attend trade shows to update our education in building science. We carefully investigate new technologies to ensure they produce measurable energy savings and benefits at a reasonable cost before integrating them into our homes.
Recent examples would be the incorporation of on-demand hot water heaters anddrain water heat recovery units in many of our homes.
Can you predict what my energy costs will be?
Your home's actual energy costs will depend on various factors such as the size of your family, your lifestyle and your energy source (ie: electric, natural gas, propane or geothermal). The EnerGuide report is based on a number of standard assumptions, such as a family of four living in the home, specific thermostat settings and usage rates for hot water, lighting and appliances. However, the report does estimate your home's annual energy usage based on these factors and provides a detailed breakdown of the energy consumption expected.
What makes your homes more environmentally friendly than others?
Homes account for 17% of all energy used in Canada. Homes that have higher EnerGuide ratings are more energy efficient and therefore produce fewer greenhouse gas emissions that contribute to climate change. As an environmentally conscious builder, we use "green" building materials, promote the use of energy efficient appliances and lighting, and produce as little waste material as possible during construction.
Do you participate in the Government of Canada's energy efficiency initiatives for new homes?
Yes. We are registered, trained and licensed by NRCan to build R-2000 and ENERGY STAR homes.
Do you affix a government-backed label to the home?
Yes. Homes built under the R-2000 program receive an official R-2000 certificate, report and label. Homes built under the ENERGY STAR initiative receive an official report and label stating that it is an ENERGY STAR qualified home. Homes built using the EnerGuide Rating System receive an official EnerGuide Rating System report and label.
These reports contain specific information regarding the energy efficiency and energy consumption of your home, and can provide additional resale value because prospective buyers can see proof of independent endorsement of your homes energy efficiency backed by the Government of Canada.
Do independent, licensed professionals inspect the quality of your homes?
Yes. An independent, licensed energy advisor evaluates, inspects and tests each of our homes and cottages, and issues an R-2000 certification, ENERGY STAR qualification or EnerGuide label where applicable. NRCan conducts random quality assurance tests on completed homes to ensure the programs have credibility and integrity.
What EnerGuide ratings do your homes achieve?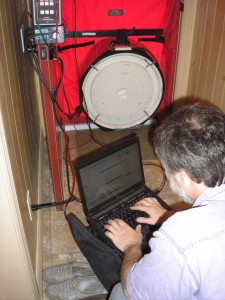 The Ontario Building Code, the R-2000 program and the ENERGY STAR for New Homes initiative currently require an EnerGuide rating of 80 or higher. Every new home we build is labeled with the EnerGuide rating system which typically scores between 80 and 85. Large percentages of glazing on homes and cottages may however become costly due to recent energy efficiency regulations introduced into the building code.
Homes built to the new ENERGY STAR 2012 standard will score an 83 or better, approximately 20% above current building code minimum requirements. Homes built to the new R-2000 2012 standard will score an 86 or better, approximately 50% above current building code minimum requirements.